Step 4: Paying the company's bills with MRR
One thing I'm hyped about is that soon Senseily is going to cross the 1,000 users mark. All these users (and the revenue) came solely from the campaigns with Dealify and Appsumo, and organic traffic.
Until now, I did close to zero marketing. Only a couple of blog posts. No paid ads, no activity on social media accounts, no working on the marketing page, etc.
In other words, I still have to play the marketing card.
A wild notification appeared
But then, the moment I think every indie maker is waiting for.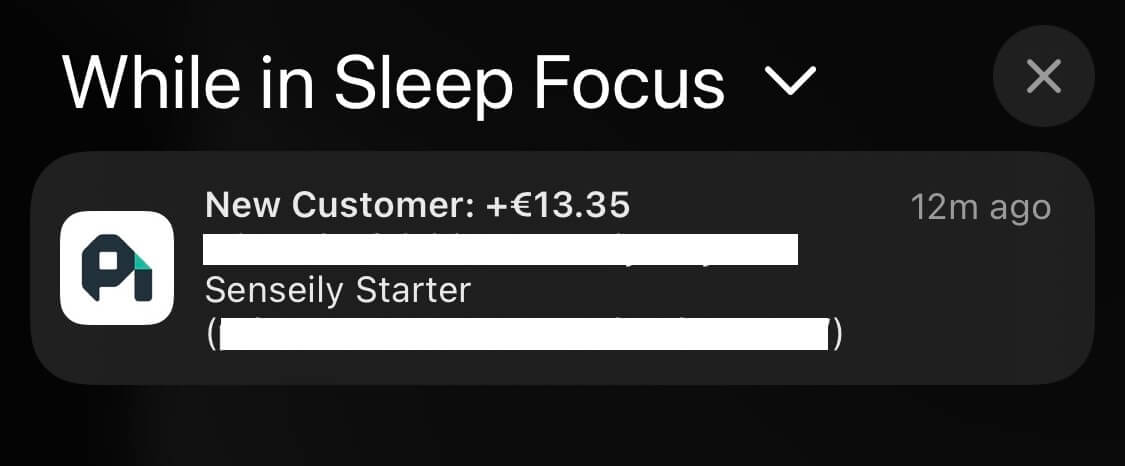 I double-checked it, and yes, even with the active LTD campaign and not doing marketing at all, Senseily got its first subscriber! 🎉
At the moment of writing this, Senseily has four monthly subscribers (crossed the three digits in MRR for the first time) for a total of 1298€ in Annual Recurring Revenue.

This means the current recurring revenue is paying for all the project costs (excluding the salary). Server, domain, AWS, subscriptions for development tools, transaction emails, etc.
Don't lose the motivation
The growth feels slow when the revenue is low. But I don't want to lose the focus, I've spent uncountable hours of programming to reach this position.
It helps me to find inspiration in other makers I've been following for years now. For example, Jon Yongfook from Bannerbear was in this spot and wrote an article about his $1000 ARR milestone.
Who knows, maybe Senseily will be at $25k/month two years later as well?
What's next for Senseily?
I think it's time to start the marketing machine. Improve the blog, create resources, pay ads, share the project on multiple platforms, etc.
But also, I want to deploy some big features I have been working on such as the page builder, API, and completion certificates. Most of the users are asking for these.
I hope all these work and I can see you on the next step of this process, the $500 MRR.
Let's throw the snowball down the hill and see how much it can grow!
The end of the Lifetime Deal
Having the focus on the MRR growth, it makes sense to start thinking about shutting down the LTD campaign.
If you are using a platform like Teachable, Podia, Thinkific, or Kajabi you may want to check out a one-off payment alternative like Senseily.
Click the following button to check the deal on AppSumo's campaign page.